Welcome to today's article, where we look at the summer tyre tests for 2023. The summer season is already in full swing and it's time to change our cars to summer tyres. That's why we've put together a list of the best summer tyre models based on eight summer tests with a total of over 100 different models. Without further ado, let's dive into the results.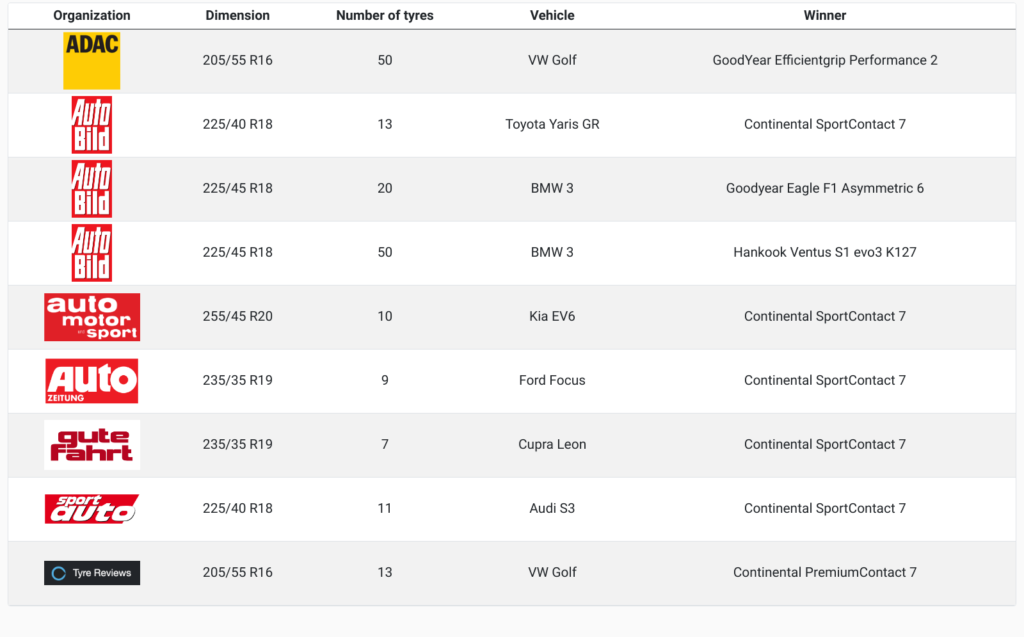 The basis of our review is based on tests from different organisations, covering a variety of tyre sizes – from normal (205/55 R16) to sports (235/35 R19). Among the tests, it's also worth mentioning the unusual 255/45 R20 size tested by Automotorsport magazine, which is popular among electric cars. The most comprehensive tests were conducted by ADAC and Autobild, with 50 tyres tested each. ADAC tested them all in detail to mark 50 years since they started their tyre tests, Autobild focused on braking distance as they do every year, where they tested the top 20 in more detail afterwards.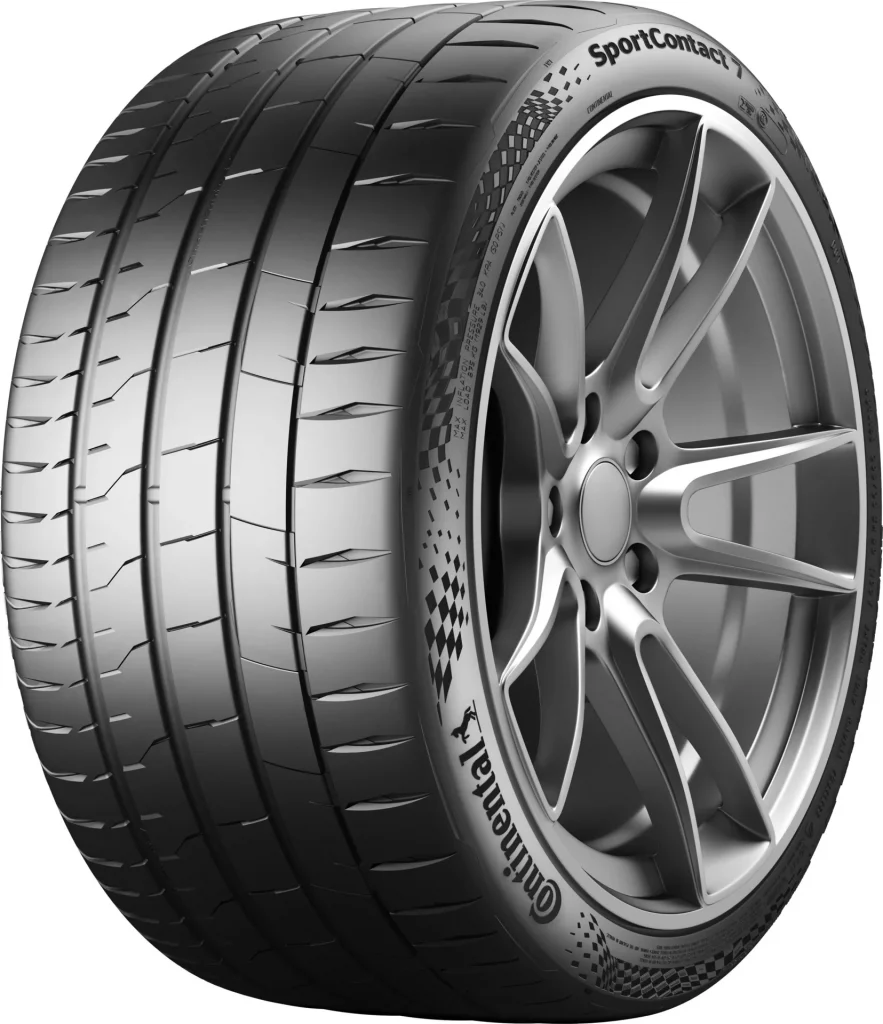 Based on average test placings, Continental's tyres fared best, with three representatives in the top four – the SportContact 7, PremiumContact 7 and its predecessor, the PremiumContact 6. In the UHP tyre category, the Goodyear Eagle F1 Asymmetric 6 was the best placed. Among the lower tyre class, Kumho, Firestone and Falken were among the best. If you're looking to save money, you can reach for Hankook premium tires, especially the new Ventus Prime 4. However, we've now categorized Hankook as a premium tire because that's where we think it rightfully belongs, based on test results and OEM use on new cars. Among budget tyres, the Nexen N Fera is an acceptable choice.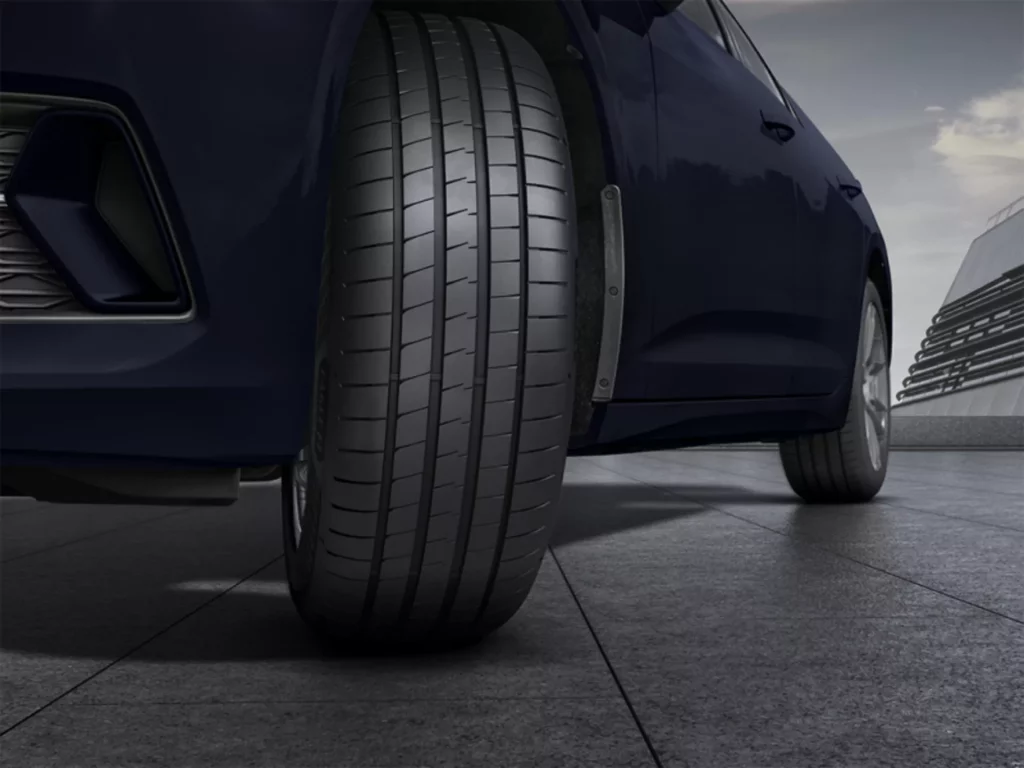 The winner of the five tests in which it was featured is Continental's new model, the SportContact 7. Despite its sporty name and its adherence to the UUHP category, the tyre is versatile and offers short braking distances, excellent handling, high aquaplaning resistance and relatively low rolling resistance. More comfortable and economical, then, is the PremiumContact 7, which focuses on safety and wet performance. Paradoxically, however, it offers above-average sporting performance for its class of touring tyre.
Continental no longer offers a UHP variant of its summer tyres, but Goodyear can fill the vacancy – the Goodyear Eagle F1 Asymmetric 6 offers sporty handling, low rolling resistance and good comfort. It's not as focused on dry roads as the SportContact 7, and it's also developed with EVs and hybrids in mind, so it's usable for everyday use – it's not noisy, it's economical and it has good durability.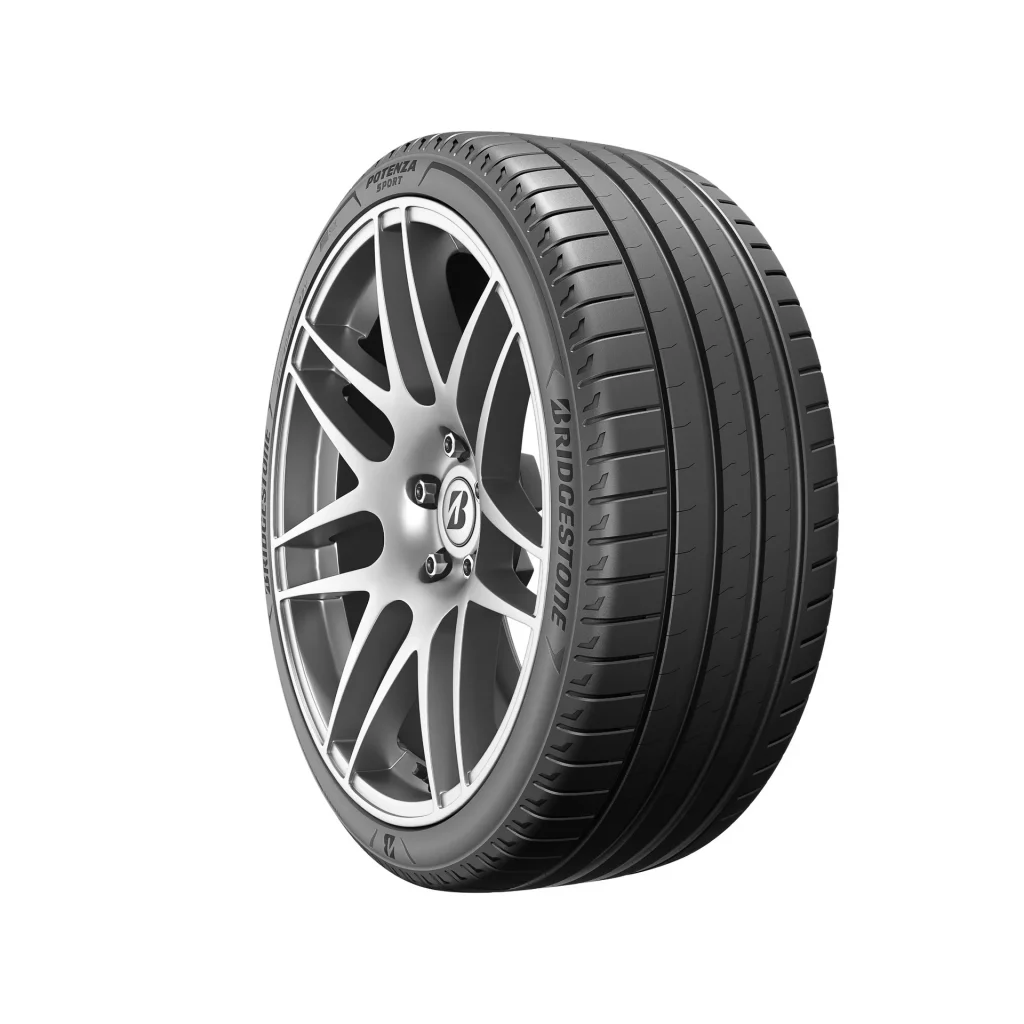 For drivers who prefer a pure sports tyre with an emphasis on sporty dry driving, the Bridgestone Potenza Sport is a good candidate. This tire delivers quick handling and crisp dry steering response, but at the cost of slightly less comfort and aquaplaning resistance. Still, it's a great choice for enthusiastic daily drivers.
We can't forget Michelin's new Pilot Sport 5. This legendary new generation tyre delivers balanced dry and wet handling, good durability and comfort, but at a higher purchase price. What makes it unique is its combination of great sporty handling characteristics throughout its longer-than-average lifetime. For the more frugal driver, the Primacy 4+ model is available with even better mileage and comfort. Michelin simply excels in tyre longevity and no one has yet managed to match that leadership.
Our reviews don't overlook the potential for savings without compromising safety. One such candidate is the Falken ZE310, which offers high dry and wet safety, but at the cost of a little less environmental friendliness and durability. Another option is the Hankook Ventus Prime 4, the successor to the successful Ventus Prime 3, which has been gaining success in tests since 2016. The new model focuses on driveability, fuel consumption, rolling resistance and mileage. The Ventus Prime 4 proves that a lower purchase price does not necessarily mean lower mileage. For sportier driving, there is the Hankook S1 Evo3, a UUHP maximum grip tyre that may be a more affordable alternative to the Michelin Pilot Sport 5 as it is around 30% cheaper. And this is no second-rate tyre – Audi, BMW, Mini Mercedes-Benz and even Porsche have approved it as original equipment for their cars for the 718 and Taycan.
If we were to choose strictly lowcost models, then the Nexen N Fera, made in the Czech Republic, is the best choice. This is very good in the dry, but falls a little short compared to the higher quality models in the wet and also in terms of wear. Still, compared to other cheap tyres, it can be recommended.
We hope our 2023 summer tyre test review has helped you choose the ideal tyres for your car. Whether you're looking for comfort, sportiness or economy, there are plenty of quality options on the market to suit your needs. Use our 2023 summer tire tests summary to find the right tire for your car.