In today's installment of our regular series, we're diving into Michelin's iconic Pilot Sport range. Over the years, this collection has solidified its status as a symbol of sports tyres. Though the Pilot Sport name graces all of Michelin's sportier tyres, significant differences exist among them. To provide clarity, we've organized the tyres from the least to the most sporty.
Pilot Sport EV
As its name suggests, the Pilot Sport EV is a fresh variant specifically designed for sporty electric vehicles. These vehicles present unique requirements – they possess a higher weight, demonstrate extreme acceleration, and beyond just performance-focused aspects, they often have narrower tyre dimensions to optimize range. Michelin has expertly addressed all these factors in the dedicated EV variant of the Pilot Sport. This tyre boasts features commonly sought after in this category – low rolling resistance, a tread design that accommodates higher vehicle weight, and noise reduction to ensure quiet operation in the absence of an internal combustion engine. This quiet operation is facilitated by Michelin Acoustic technology, essentially a foam insert within the inside of the tyre that muffles the sound of rolling. Of course, as part of the Pilot Sport line, this tyre also emphasizes sporty driving. Michelin pledges an enjoyable driving experience in electric cars with this tyre. While it hasn't yet undergone any independent testing, we're eager to see if it can uphold Michelin's claims, given that no tyre in the Pilot Sport range has ever received a poor rating.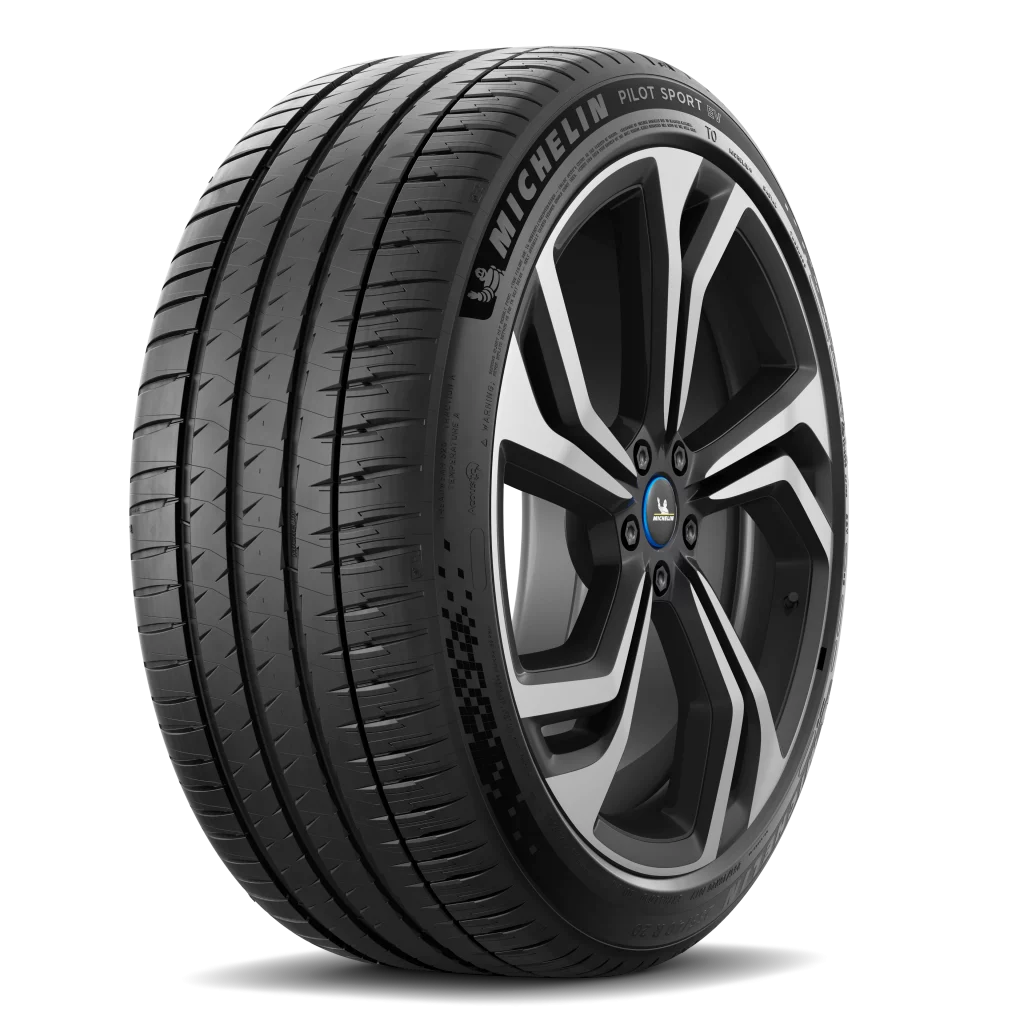 Pilot Sport – PS4,PS5
The second most eco-friendly and also the most popular version is the basic "Pilot Sport", abbreviated simply as PS, which now ranks as the second least sporty in the range. This model strives to balance dynamic driving with longevity, preserving its driveability over the course of its lifespan. It particularly emphasizes performance in wet conditions and boasts impressive sidewall aesthetics.
The fifth generation of this tyre, introduced in 2022, is already earning accolades in various tests. Its primary drawbacks are generally noted as its higher price and a preference for low rolling resistance over agility in models R19 and above. However, these issues are addressed by sportier variants within the range. Despite these criticisms, this version of the Pilot Sport excels in wet conditions and its durability — a hallmark of Michelin — is frequently lauded in tests. In terms of driving dynamics, it tends towards a safe understeer rather than a sportier oversteer. This characteristic, intentionally designed for safety, ensures stability and prevents potential loss of control, making it particularly suitable for everyday driving, though it may not fully satisfy those seeking a more sporty drive.
Michelin Pilot Sport 5: Tests

| Ranking | Organization | Rating | Dimension | Year |
| --- | --- | --- | --- | --- |
| 1 | Tyre Reviews | Test winner | 225/45 R17 | 2022 |
| 2 | Tyre Reviews | Highly recommended | 225/40 R18 | 2023 |
| 3 | Autobild | Outstanding | 225/40 R18 | 2023 |
| 2 | Autobild | Outstanding | 225/45 R18 | 2023 |
| 3 | ACE | Highly recommended | 225/45 R18 | 2023 |
| 6 | Autobild | | 225/45 R18 | 2023 |
| 5 | Autozeitung | Highly recommended | 235/35 R19 | 2023 |
In the competition, tyres such as the Goodyear Eagle F1 Asymmetric 6, Continental PremiumContact 7 (the sportier SportContact series is more similar to the Pilot Sport S), Bridgestone Turanza Sport (also a bit sportier than the PS), and Hankook S1 Evo3 stand out. Notably, the Hankook S1 Evo3 piques interest primarily due to its price point compared to Michelin's offering.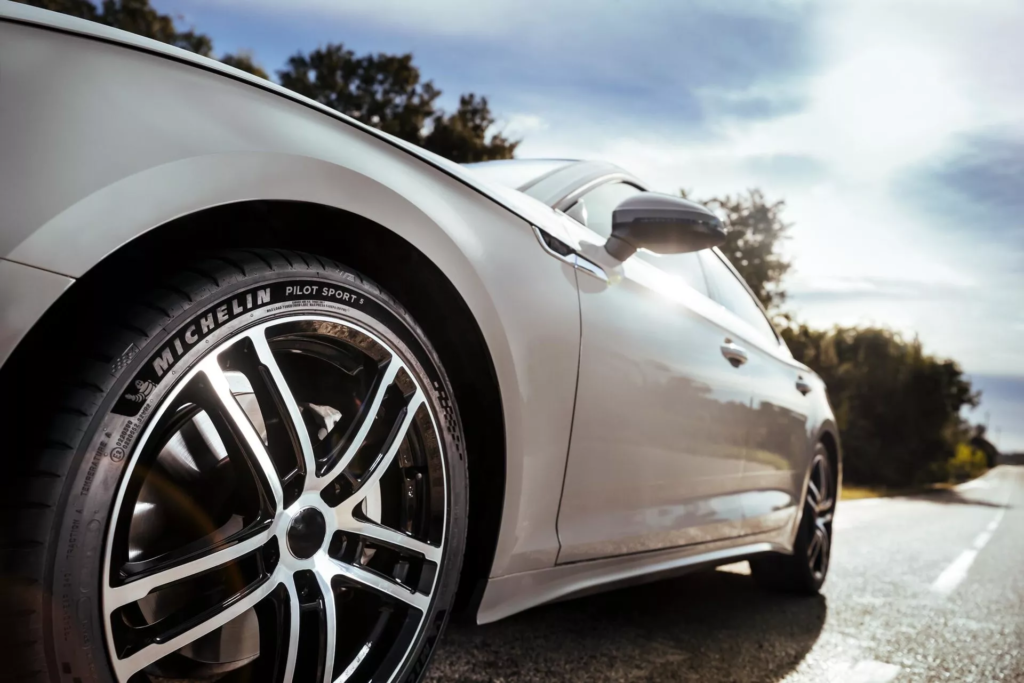 Pilot Sport S
Next comes the Pilot Sport S, or rather its current models Pilot Sport 4 S and Pilot Sport S 5 (note the change in branding), the fifth version of which is only available in the original equipment mode for new cars, so it is only available in a few sizes with a focus on a specific car brand. This range is defined by Michelin as the variant that delivers maximum performance for driving enjoyment both on the road and occasionally on the track. It provides excellent grip, but tests occasionally mention a lack of steering feedback. Its tread pattern is still focused on wet performance too, and it's above average in its class, although the "basic" Pilot Sport is sure to do a little better.
Michelin Pilot Sport 4 S: Tests

| Ranking | Organization | Rating | Dimension | Year |
| --- | --- | --- | --- | --- |
| 1 | Autobild | Exemplary | 245/30 R20 | 2018 |
| 2 | Autobild | Exemplary | 245/35 R19 | 2018 |
| 1 | Autobild | Exemplary | 245/35 R19 | 2020 |
| 3 | Tyre Reviews | | 225/40 R18 | 2021 |
| 1 | Autobild | Very good | 255/35 R19 | 2021 |
| 3 | Autobild | Exemplary | 265/35 R20 | 2021 |
| 2 | Tyre Reviews | | 255/35 R19 | 2022 |
| 3 | SportAuto | Very good | 225/40 R18 | 2023 |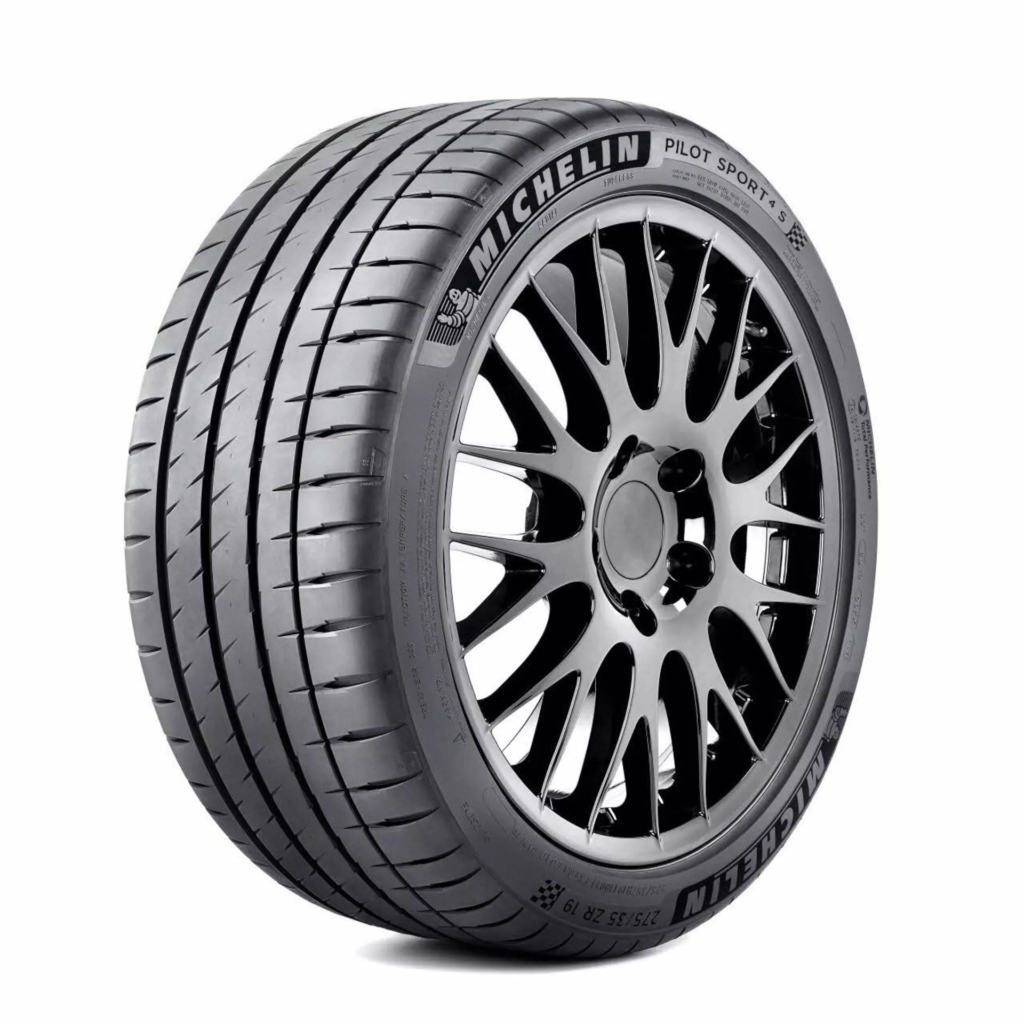 Pilot Sport CUP 2
Adding to the array of choices is the circuit-optimized CUP 2 model variant. This top-tier version corresponds to the original equipment found on high-performance models from AMG-Mercedes, Porsche, Ferrari, Koenigsegg, among others.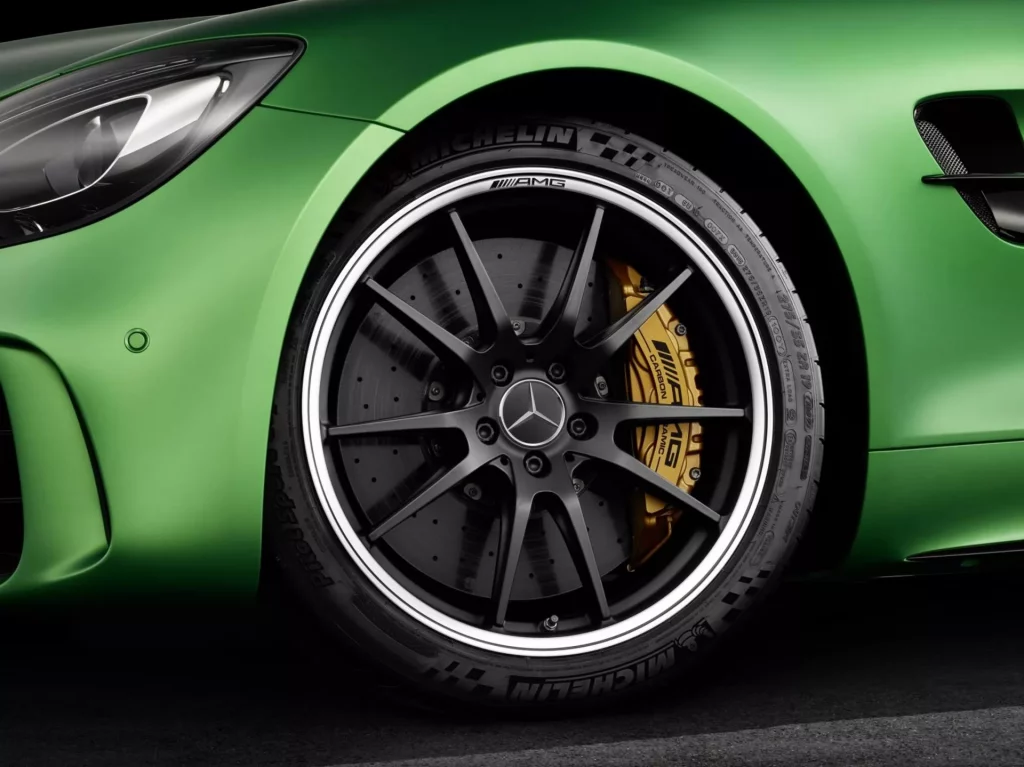 Further enhancing the model's capabilities, the CUP 2 Connect offers compatibility with the Michelin Track Connect mobile app. Used in conjunction with other accessories, it enables users to monitor tire temperature and pressure in real time. This dynamic data can then provide users with advice on optimizing performance on the race track.
Michelin Pilot Sport CUP 2 Connect: Tests

| Ranking | Organization | Rating | Dimension | Year |
| --- | --- | --- | --- | --- |
| 3 | Sportauto | Very good | 235/35 R19 | 2022 |
In terms of performance, the CUP 2 model is frequently lauded for its superior dry traction, often cited as the best across multiple tests. Other highlights include its precise steering response and excellent feedback. Conversely, it's important to note the model's potential shortcomings in wet conditions, especially aquaplaning.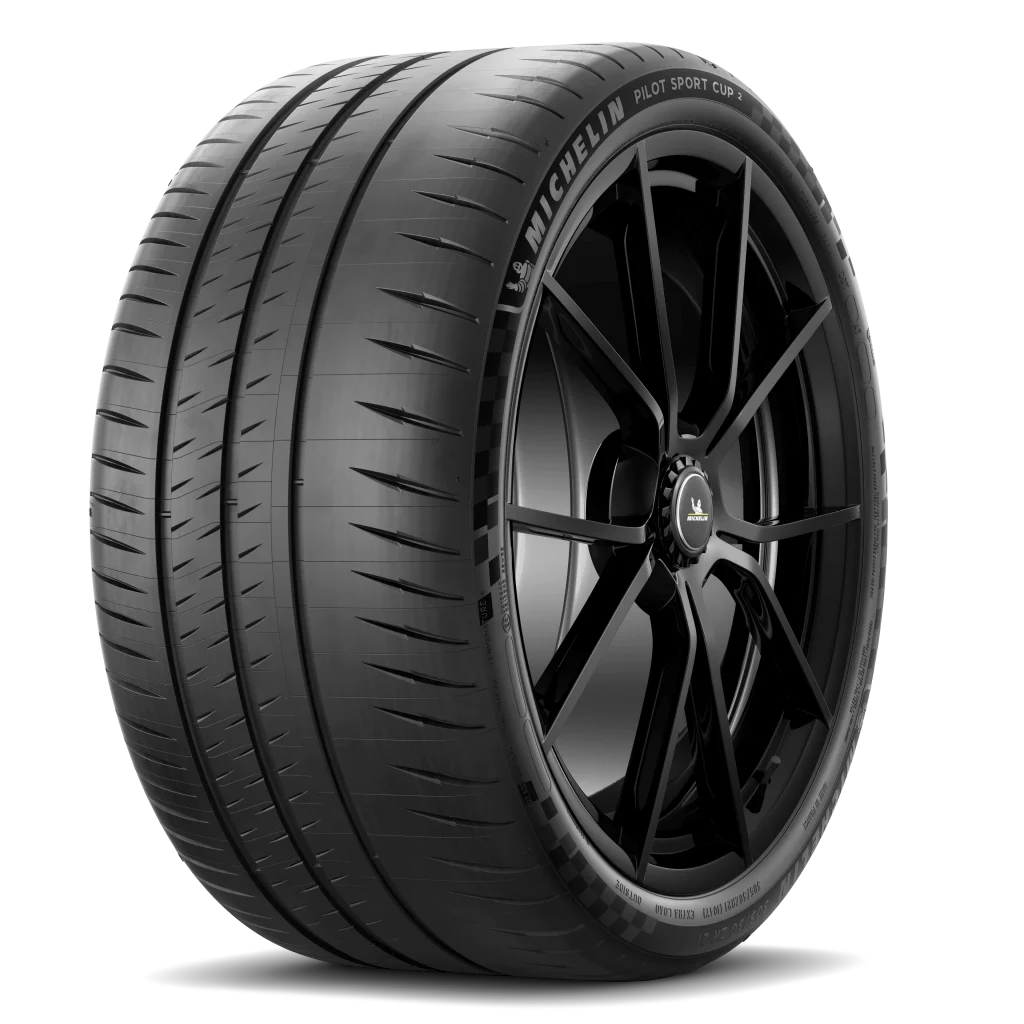 Pilot Sport CUP 2 R
While the CUP 2 is not outright optimized for wet, but still partially focuses on it and addresses tire life, the CUP 2 R is already optimized solely for fastest lap time on the race track. It's a downright race tyre, with the main priorities being to last a high number of laps under maximum load, provide extreme lateral grip in the dry and precise ride response to ensure the best possible lap time.
Michelin has tested this too, and it is against the "regular" CUP 2. The test car was the benchmark of sports cars, the Porsche 911 GT 2 RS, and the difference on the six-kilometre track was a staggering 2.9 seconds in favour of the CUP 2 R. Michelin also lists on its website all the record times set by cars with the CUP 2 R, including the Nordschleife, again with the GT 2 RS, in 6:38, the second fastest time ever by a production car. But if we look at all the production car records from the Nordschleife, all the top 4 times were set in the Pilot Sport Cup 2R. In fifth and eighth place we then find times set on the Pirelli P Zero Trofeo R, with the Dunlop Direzza DZ03 still occasionally featuring in the table, and the standard CUP 2 on the Porsche 918 Spyder also just under seven minutes. Michelin's dominance in the racing tyre segment is simply very clear. This is of course also evident in the price, but it is clear from the times on the Nurburgring's Nordschleife that there is probably no better tyre for circuit driving with production cars.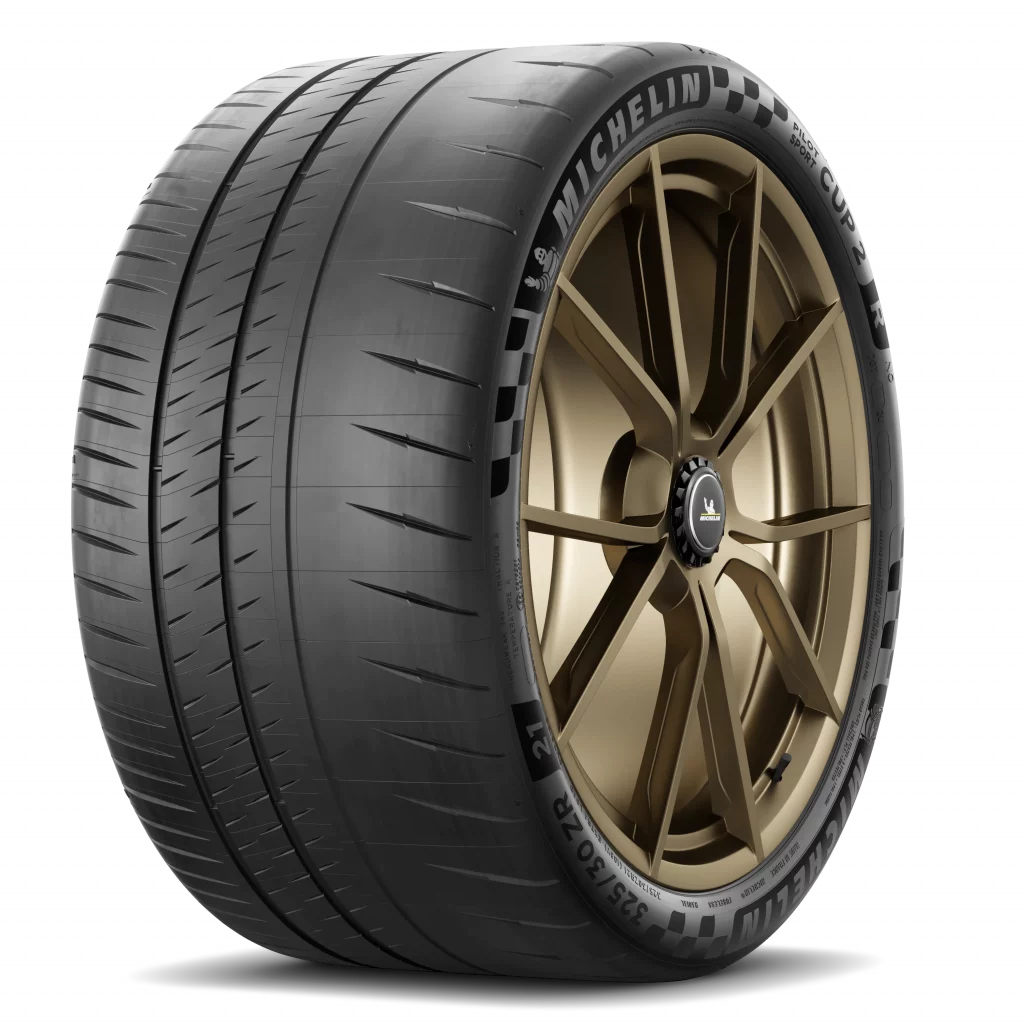 Conclusion
The Michelin Pilot Sport range is a key product for the French manufacturer and is also part of the emerging era of electromobility. But it also provides models that are suitable for virtually anyone looking for fun in driving. There are models for casual sporting activities, such as the Pilot Sport, right up to the outright circuit versions of the CUP and CUP R. Their price is high, but again they guarantee that you really get the best for your money.